what does spooling mean on a printer?
Spooling refers to the time that it takes for your computer to move information from its source—a program or document—to your printer, which must have been turned on and connected beforehand. The spooling process usually happens in the background, and can sometimes take several minutes if you're printing an especially large document or image.
However, this term isn't strictly limited to printers; it's often used when talking about transferring data from one device to another, such as with digital cameras and smartphones, too. Read on to learn more about what does spooling mean on a printer.
How Does Spooling Work?
Data is sent to and stored in volatile storage. Compared to the rest of the PC, printers have a tiny memory. Spooling works like the requests in a queue. It follows the FIFO format, which stands for first in first out. They can maintain spool on either the peripheral devices themselves or on the PC's memory.
Printers are not the only peripheral devices that use the spooling mechanism. Other devices like keyboards and mice can also use it.
What are the Advantages of Printer Spooling?
The prominent advantages of Printer spooling have been discussed below.
No Waste if Printing Many Documents at Once: this prevents wasting paper/toner if you have to stop printing in between documents. It also allows you to print more than one document at a time (i.e. multiple files).
Time-Saving: Since the printing process takes place in the background, you can move on to other tasks without having to wait for the document to finish printing. You can also save yourself from wasting paper by printing only one copy of each document and then re-printing them later on if necessary.
Free Resources: The printer spooler allows you to free up your computer's resources for other tasks, such as word processing or surfing the internet. This eliminates any slowdowns that may occur due to the lack of resources available for other programs running simultaneously with the printer.
Productivity Increases: Users can continue working as print jobs are running in the background. This helps increase productivity because users don't have to wait for a job to complete before moving on to another task.
Minimizing Errors: Spooling prevents errors that arise during printing if you send another document or command before the printer finishes its current task.
Enable Or Disable The Printer Spooler Service
The Printer Spooler service can be easily disabled on a windows computer using the below-mentioned method.
To get started, press the Windows + R keys to open the Run dialog box. Type services.msc and press Enter.
In the Service Window, find and double click on "Print Spooler".
Right-click Print Spooler & choose the Properties.
Print Spooler Properties box is launched, stay into the General tab, move to the second section titled Service status section, and hit the Start button to enable the service.
To disable the startup type, select "Disabled" from the drop-down menu.
Then, click on the Stop button.
How to Speed Up the Print Spooler?
If the printer spooler keeps stopping or is on hang, here are possible solutions to the problem;
Solution 1: Delete Print Spooler Files
Sometimes Print Spooler service can keep stopping because of Print Spooler files – too many, pending, or corrupt files. Deleting your print spooler files can clear pending print jobs, or too many files or solve the corrupt files to resolve the problem. To delete Print Spooler Files:
First, disable Print Spooler service: open services (Press Windows Key + R then type services.msc and press Enter).
In the Services listed locate the Print Spooler service then Stop it. (right-click it and choose Stop).
Minimize the Services window.
Open Windows File Explorers (press Windows key + E) and go to the C:\Windows\System32\spool\PRINTERS folder (you'll need administrator privileges to run this folder). Follow the same process for C:\Windows\System64\spool\PRINTERS.
Click yes (or Continue) if prompted for Administrator privileges to open PRINTERS
Delete all the files in the PRINTERS folder. Make sure the folder is left empty.
Go back to Services (The windows you minimized), and start the Print Spooler services (The one you stopped).
After deleting these files, disconnect your printers from your PC and connect them again after a while;
Now check if the print function works or runs normally.
Solution 2: Print Spooler Service is Set to Automatic
All you need to do is to set the print spooler service to start automatically on Windows startup. Do the following:
Open services window: press Windows key + R and type "services.msc"
Locate Print Spooler (Remote Procedure Call) Service in the list, then right-click on it and choose the Properties.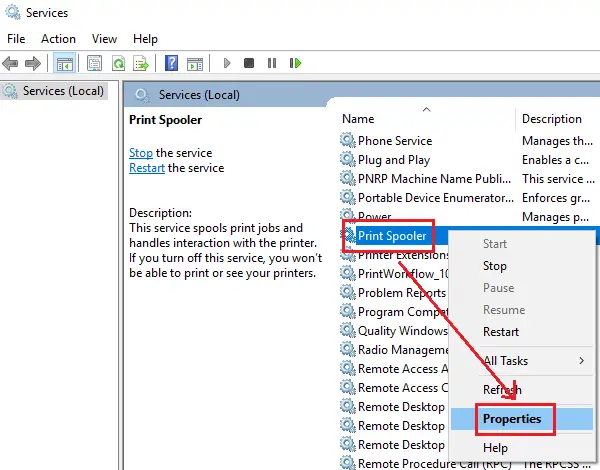 Check if Startup type is set to Automatic, if not change it to Automatic then click Apply > OK.
CONCLUSION:
We have discussed printer spooling in detail in this article. If you are a new printer user, then some messages can be annoying for you. Printer spooling is one of them. We have talked about the importance of working, and some other important points about spooling.