How to Connect Canon Printer to Mac
In this article, we have explained the ways by which you can easily connect a Canon printer to your Mac computer.
Steps to Connect Canon Printer To Wireless Network
Turn on your Canon printer.
Make sure your router has a WPS button available. Also, make sure that your network is using the WPA or WPA2 security protocols.
Tap on the Wi-Fi button and hold it until the lamp blinks once.
Once this is done, go to the router and click on the WPS button.
Press the button for two minutes or else the connection will be interrupted.
If the Wi-Fi light blinks, it means the printer is searching for available networks.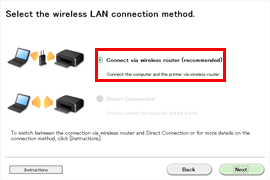 After Wi-Fi is connected to the wireless router, the power lamp and Wi-Fi lamp will blink.
Now wait for the connection to complete. Once connected, the power light and Wi-Fi lamp will stop blinking.
Now you have to download Canon printer driver from here.
After that install the driver setup by following the onscreen steps.
After completion of setup,, your printer will be ready to use.
Method To Connect Canon Printer To Mac Using Wired Connection
Follow the below-mentioned steps to connect Canon printer to Mac using a wired connection:
First of all turn on your Canon printer.
Download Canon printer drivers from Canon's website.
Then install the driver by following the on-screen instructions.
Now connect your printer's USB cable to your Mac device and printer.
Once the driver installation is complete, click on the 'Apple' menu and select 'System Preferences'.
Select and open the 'Printers and Scanners' option.
Add your Canon printer by clicking the '+' option.
Select your Canon printer model from the list of available printers and click 'Add'.
Follow the installation process. Your printer setup is now finished.